DJ Waller Selected for 2023 GeorgiaForward Young Gamechangers Cohort
January 18, 2023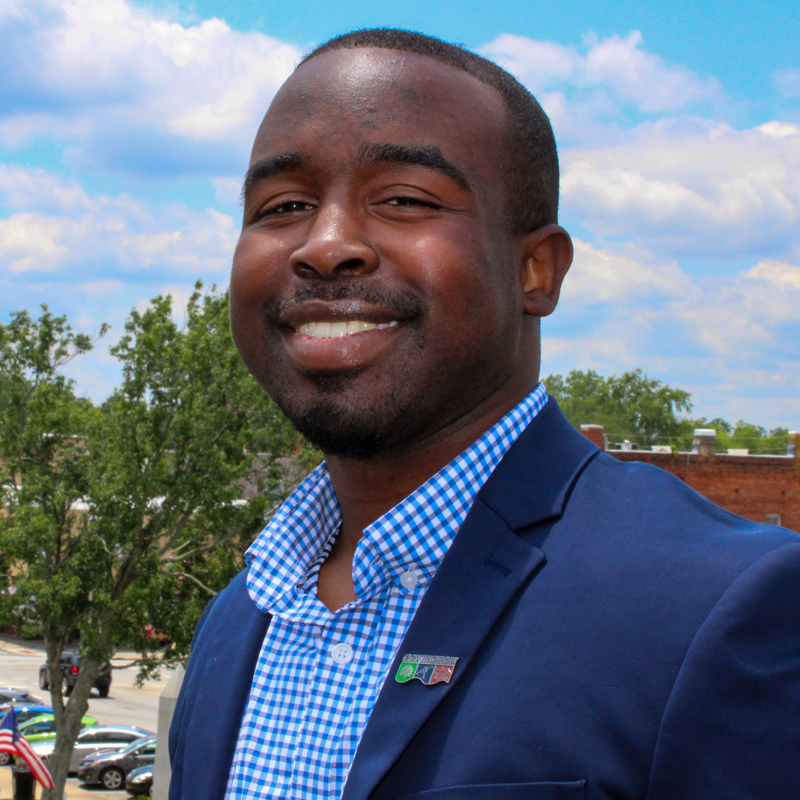 DJ Waller Selected for
2023 GeorgiaForward Young Gamechangers Cohort
ATLANTA — GeorgiaForward recently selected DJ Waller as one of the 45 promising professionals to serve the organization's 2023 Young Gamechangers (YG) program. YG is a unique leadership action program hosted by GeorgiaForward, a non-profit organization administrated by the Georgia Municipal Association. Young Gamechangers brings professionals from across the state to work on the persistent challenges of one Georgia community.
In 2023, Columbus-Muscogee County will host the Young Gamechangers. Columbus leaders have finalized their four "Challenge Questions" that the 2023 cohort will be charged to answer through the eight months they will spend developing specific, actionable recommendations for the community. These questions focus on economic development, community engagement, local entrepreneurship, and more.
"We are delighted to bring the Young Gamechanger program to Columbus after a very successful run in Dalton," said AJ Robinson, chair of GeorgiaForward's board of directors. "This program has proven beneficial to every locale in which it has taken place, bringing new and fresh ideas to cities and counties across the state. It is a premier leadership development opportunity which produces results on many levels."
DJ Waller, 26, is one of the Gamechangers selected for this class. He serves as the Community Development Manager for the City of Covington. In this role, DJ handles tourism initiatives as well as all filming permits for one of the busiest filming communities in the state. Some of DJ's efforts helped bring nearly 100,000 visitors to Covington in 2022.
"It is both an honor and a privilege to be selected as a member of the 2023 GeorgiaForward Young Gamechangers cohort. I am uber excited to learn from and with an incredibly talented group of Georgians; as well as make a positive impact on Columbus-Muscogee County that will allow residents and visitors alike to benefit from for generations to come," Waller said. "I look forward to working with my fellow Gamechangers in April."
"We can't be more excited to host the Young Gamechangers program in the beautiful City of Columbus during a time when Columbus is experiencing the greatest momentum this city has ever seen," said Isaiah Hugley, City Manager. "We look forward to highlighting the many projects that are underway and in the pipeline over the next few years, and young people will play a huge role in what the future of Columbus will look like."
The 2023 cohort of Gamechangers will meet for the first time in the City of Columbus on April 26th, and their work will culminate with a community presentation of their findings and recommendations on October 19th.
"The professionals who participate in the Young Gamechangers Program in Columbus will bring fresh eyes and an openness to big new ideas," said GMA CEO and Executive Director Larry Hanson. "Many of the innovative recommendations provided by past groups have shown that this fresh perspective can be a catalyst for positive, creative and thoughtful development for the host city. I am confident our next group will find great benefit from the program and leave a lasting impact on Columbus."
Previous Young Gamechangers Host Communities are Americus-Sumter County, Dublin-Laurens County, Douglasville-Douglas County, Augusta-Richmond County, LaGrange-Troup County, Milledgeville-Baldwin County, Albany-Dougherty County, Monroe-Walton County, and Dalton-Whitfield County.
---


About GeorgiaForward: GeorgiaForward is a convener, connector, and unifier. We exist to unite our state, strengthen communities, and create a talent pipeline within Georgia.

GeorgiaForward engages young professionals with leaders in civics, industry, government, academia, and the media to find a common vision for Georgia. The nonprofit organization, which is administered by the Georgia Municipal Association, accomplishes this by creating an environment in which vision and pragmatism can overcome political deadlock, fostering communication and goodwill among Georgia's stakeholders, and seeking innovative solutions to Georgia's biggest challenges. To learn more about GeorgiaForward visit, georgiaforward.org.
About the Georgia Municipal Association: Based in Atlanta, GMA is a voluntary, non-profit organization that provides legislative advocacy, educational, employee benefit and consulting services to all of Georgia's 537 cities. GMA anticipates and influences the forces shaping Georgia's cities and to provide leadership, tools and services that assist municipal governments in becoming more innovative, effective and responsive. Created in 1933, the Georgia Municipal Association (GMA) is the only state organization that represents municipal governments in Georgia. For more information, visit www.gacities.com.
Return to list.