COVID-19 Resource Information
COVID-19 numbers in the state of Georgia are beginning to decrease and vaccinations are increasing. Social distancing, face masks and hand washing are STILL recommended to continue to fight the spread of COVID-19 and other seasonal illnesses. For mental health resources, scroll to the bottom of the page.
COVID-19 in 2022
GET VACCINATED OR BOOSTED IF ELIGIBLE
Wear a mask




Practice social distancing




Wash/sanitize your hands regularly




Follow public health guidance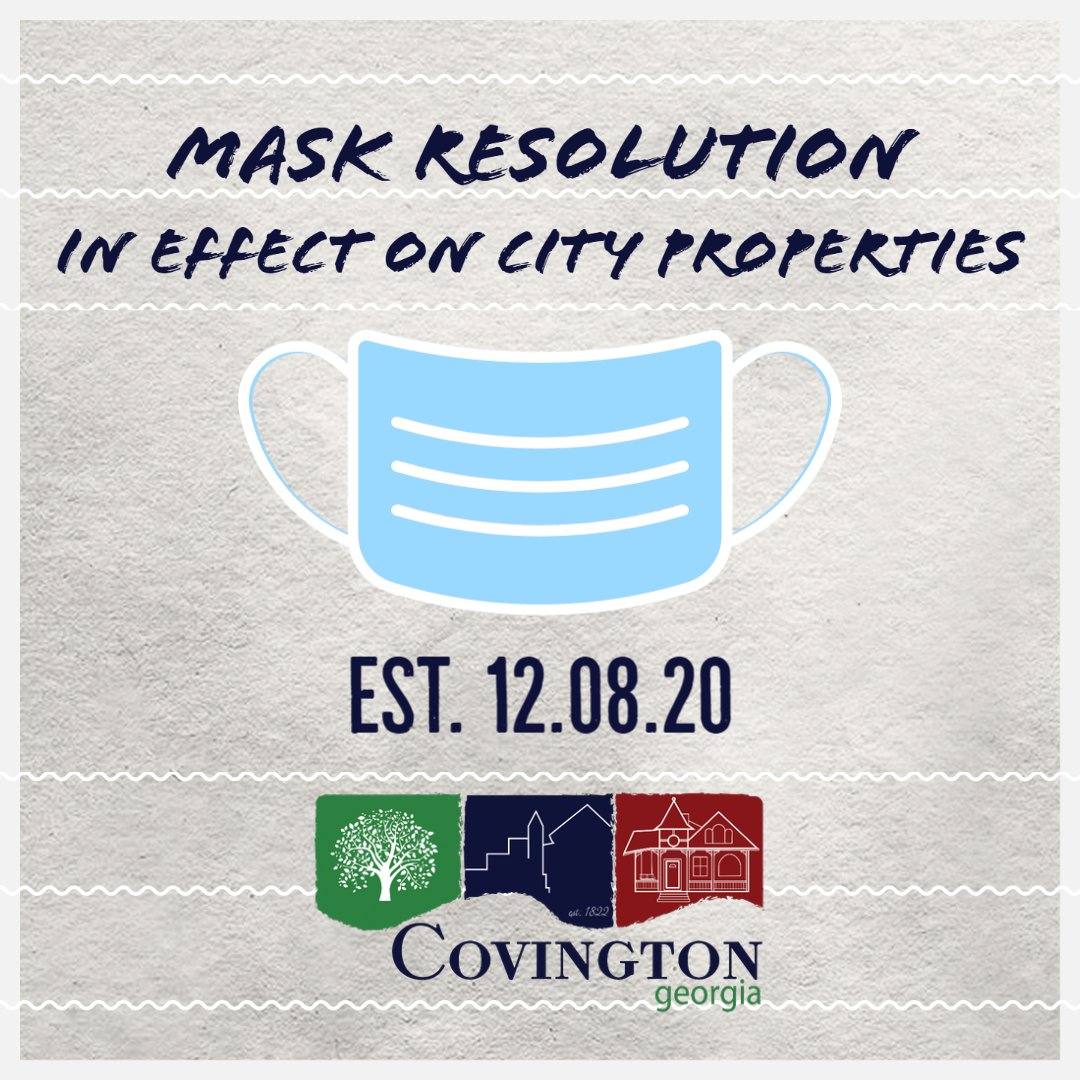 At the City Council meeting held on Monday, August 16, 2021, Mayor Horton announced that the mask resolution passed in December 2020 was still in effect on City properties since the number of COVID-19 cases in Newton County now exceeds 100 per 100,000 over a two week period. Newton County is currently in the high transmission category for COVID-19.
The following guidelines are outlined in the mask resolution:
1. Individuals will be required to wear a face covering on City properties.
2. Face coverings aren't mandated on private property, but Council is encouraging businesses to institute the mandatory mask resolution.
3. Masks are not required to be medical grade so long as they cover the nose and mouth. Bandanas, scarves and other similar fabrics are allowed.
4. Businesses within city limits may indicated that they require masks on their property by posting a notice at each entrance accessible to the public.
5. Masks are not required while eating or drinking or if socially distanced at least six feet apart.
6. The Covington Police Department will enforce the ordinance on all public property and any private property that chooses to require masks. Any individual who fails to be in compliance with this order is subject to a $50 fine.
---
MENTAL HEALTH RESOURCES
COVID-19 has disrupted our lives in many ways. From losing loved ones to job loss to the anxiety caused by the threat of a deadly virus, COVID-19 has not only attacked us physically, the pandemic has laid siege to our mental health as well.
There are guidelines to combat COVID-19 from attacking us physically...stay 6 feet apart, wash your hands, wear a mask...unfortunately, there aren't the same guidelines for keeping the ramifications of COVID-19 from affecting our mental well being. Don't suffer alone or in silence. If you or someone you know is seeking resources, please consider checking out the list below.
COVID-19 Vaccination Information
COVID-19 Resources